Cracks in your home or foundation? Deep South has the solution.
Mold or mildew in your crawl space? Deep South can help.
Rotten or damaged wood? Deep South can fix your home.
Deep South Construction Pros
Taking Care of Homeowners in North and Central Alabama.
Locally owned, Deep South Construction Pros believes in high-quality workmanship. We obtain an Alabama Homebuilder License and specialize in Foundation & Structural Repair, Foundation Waterproofing & Exterior Drainage, Crawlspace Mold Remediation & Encapsulation, Wood Repair & Restoration, Stabilization, and Dirt Work. We succeed because of the integrity of our employees, our commitment to craftsmanship, and our passion for providing our customers with the best experience.
You Can Trust Our Home Service Pros!
Remediate, Repair, Restore
FOUNDATION AND STRUCTURAL REPAIR
We repair leaning, cracking, bowing, rotting, and sinking foundations with solutions like helical piers, floor supports, or steel and carbon fiber bracing.
BASEMENT AND CRAWL SPACE WATERPROOFING
We provide interior and exterior waterproofing solutions for all your waterproofing needs.
CRAWL SPACE ENCAPSULATION
We protect your home from mold & fungus growth with crawl space encapsulation and dehumidifier installation for your crawl space.
EXTERIOR DRAINAGE AND DIRT WORK
We correct exterior water drainage issues with the installation of trench or French drain systems, ditching, swells, culvert installation, dry beds, and rock beds. We also provide excavation services, including grading, clearing, site prep, and digging ponds.
MOLD REMEDIATION
We remediate mold and fungus growth in basements and crawl spaces.
GENERAL CONSTRUCTION
We provide several general construction services, including garage door lintel repair, retaining wall installation and repair, and LVL installation to open up load-bearing walls.
Reviews From Our Customers
This is a very talented group of young men that work diligently and efficiently. They go above and beyond to make sure customer satisfaction is up to par. Would recommend Deep South Construction Pros. This team is incredible and would use again 10 out of 10.
Great company to work with
They were very prompt and efficient. Courteous and professional workers. I would use them again.
I would recommend this company to anyone! They were very professional and knowledgeable.
Blake and Liz were awesome to work with over the phone and were VERY professional. Grant was my salesperson. He communicated very well, explained everything in layman's terms, and gave me a very reasonable quote. I will absolutely recommend this company to my friends and family. Five stars.
Great people to work with very punctual and attentive with there work.
They had our whole house replumbed , they had to gut the walls and floors to the studs ! Repair joist and replace all subfloor. Put up all new drywall and trim , installed new floors, put in new tub and surround . We have a tiny bathroom and they rised to the challenge ! Did a great job . Grant was great to work with !Honest , and dependable !
Your Foundation Repair, Waterproofing, General Construction, and Dirt Work Experts.
Serving North and Central Alabama
We provide Foundation Repair, Waterproofing, Encapsulation, Excavation, and General Construction to the following counties: Blount, Cherokee, Colbert, Cullman, Dekalb, Etowah, Franklin, Jackson, Jefferson, Lauderdale, Lawrence, Limestone, Madison, Marion, Marshall, Morgan, Walker, and Winston.
Madison
Muscle Shoals
Florence
Scottsboro
Cullman
Birmingham
Athens
Gadsden
Leeds
Pell City
Jasper
Fort Payne
Decatur
Priceville
Hartselle
Trinity
Somerville
Falkville
Huntsville
Harvest
Meridianville
Owens
Cross Roads
Triana
Centre
Cedar Bluff
Tuscumbia
Sheffield
Leighton
Hanceville,
Vinemont
Fort Payne
Rainsville
Rainbow City
Russellville
Red Bay
Rogersville
Killen
Lexington
Moulton
Town Creek
Hillsboro
Elkmont
Ardmore
Hamilton
Guntersville
Albertville
Arab
Union Grove
Double Springs
Arley
All Cities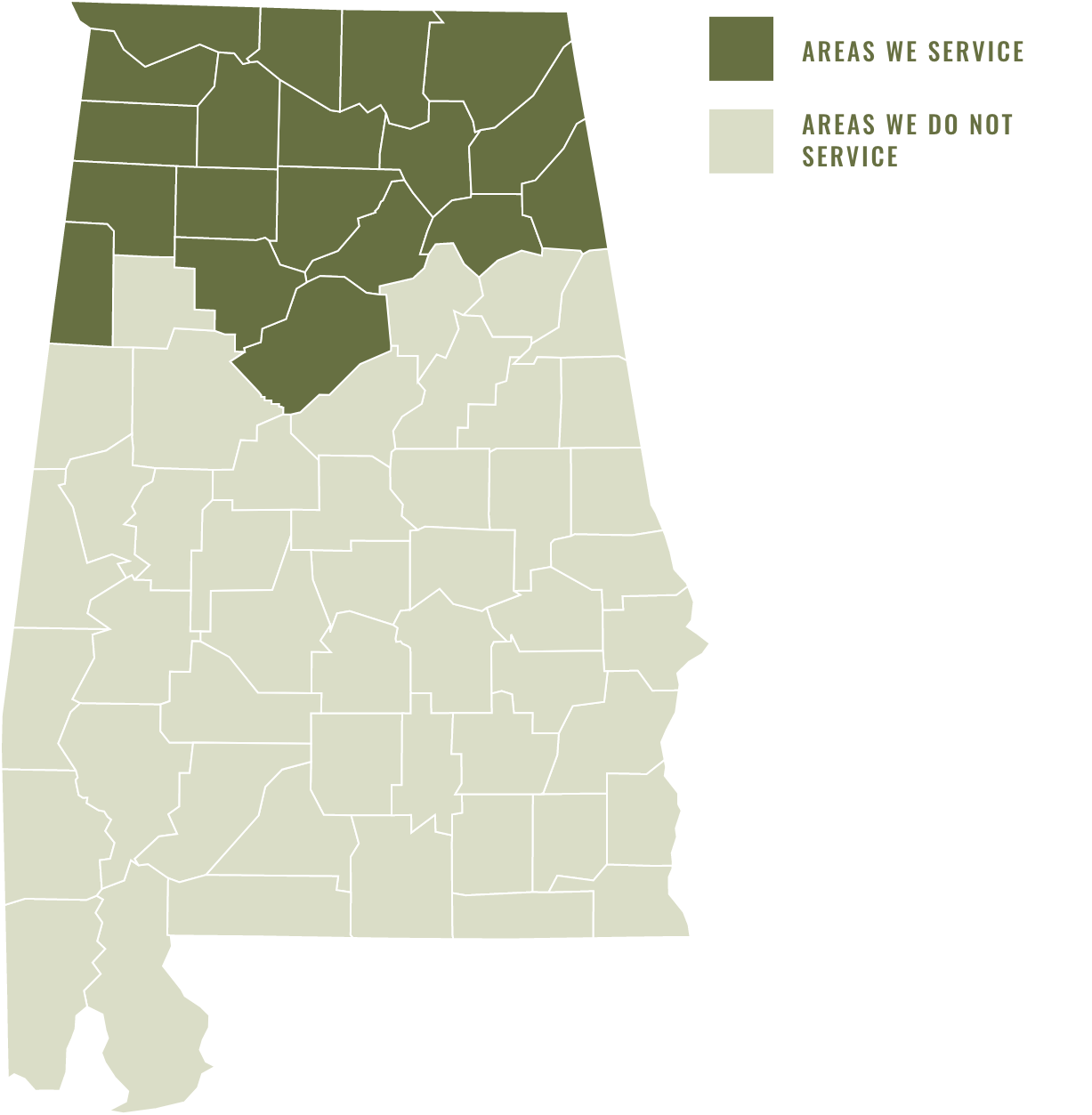 Trust Deep South Construction Pros: Alabama's Crawl Space Experts
Schedule Your FREE Estimate With Us TODAY!